abada - capoeira melbourne
Discover a new world of movement and rhythm
Due to the current Covid-19 restrictions we are now running our Capoeira classes in the park, close to our usual spaces. Contact us for more information about our temporary prices and times for this period. Stay safe; stay moving.
Capoeira is a conversation through motion. Express yourself with free and creative movement.
ABADA – Capoeira is a worldwide, diverse, and friendly community. We provide a safe space where we are all equals, independent of ability, age, or gender. The school promotes values of respect, cooperation, and freedom.
In our Capoeira Kids class, children learn to improve coordination, rhythmic sense, and concentration.
Discover martial art techniques connected to acrobatics, play instruments, and sing while exploring the joys of being active and interactive, having a lot of fun!
Join our trial classes to start to understand the movements, ideas, history, and music that makes Capoeira such a unique art form and our passion. Find the near location to you.
Check our locations, timetable and classes in Melbourne suitable for your new challenge.
Be part of ABADA – Capoeira community and join a Capoeira school present in more than 60 countries worldwide.
The Associação Brasileira de Apoio e Desenvolvimento da Arte – Capoeira (ABADÁ – Capoeira), in English translated as "The Brazilian Association for the Support and Development of the Art of Capoeira", is a nonprofit organization whose purpose is to spread and support Brazilian culture through the practice of Capoeira. Mestre Camisa, José Tadeu Carneiro Cardoso, ABADÁ is based in Rio de Janeiro, Brazil. It is one of the largest capoeira organisations in the world. ABADÁ is distinguished from other capoeira organizations by its worldwide growth as well as its style, standards, and philosophy.
Any queries about classes, workshops, school incursions, or just about Capoeira are welcome. Choose one of our locations.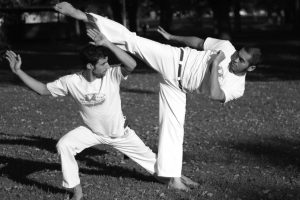 Capoeira Classes
Classes at the park – November 2020 Coronavirus update:  As the Covid-19 restrictions are easing, we are now able to run our classes at the
Read More »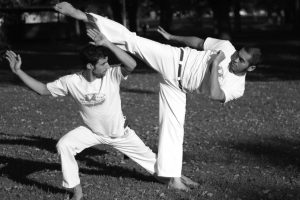 Capoeira Classes
Coronavirus and our classes Coronavirus update:  As we are all aware, the current Coronavirus situation is causing a severe impact to our community and to
Read More »