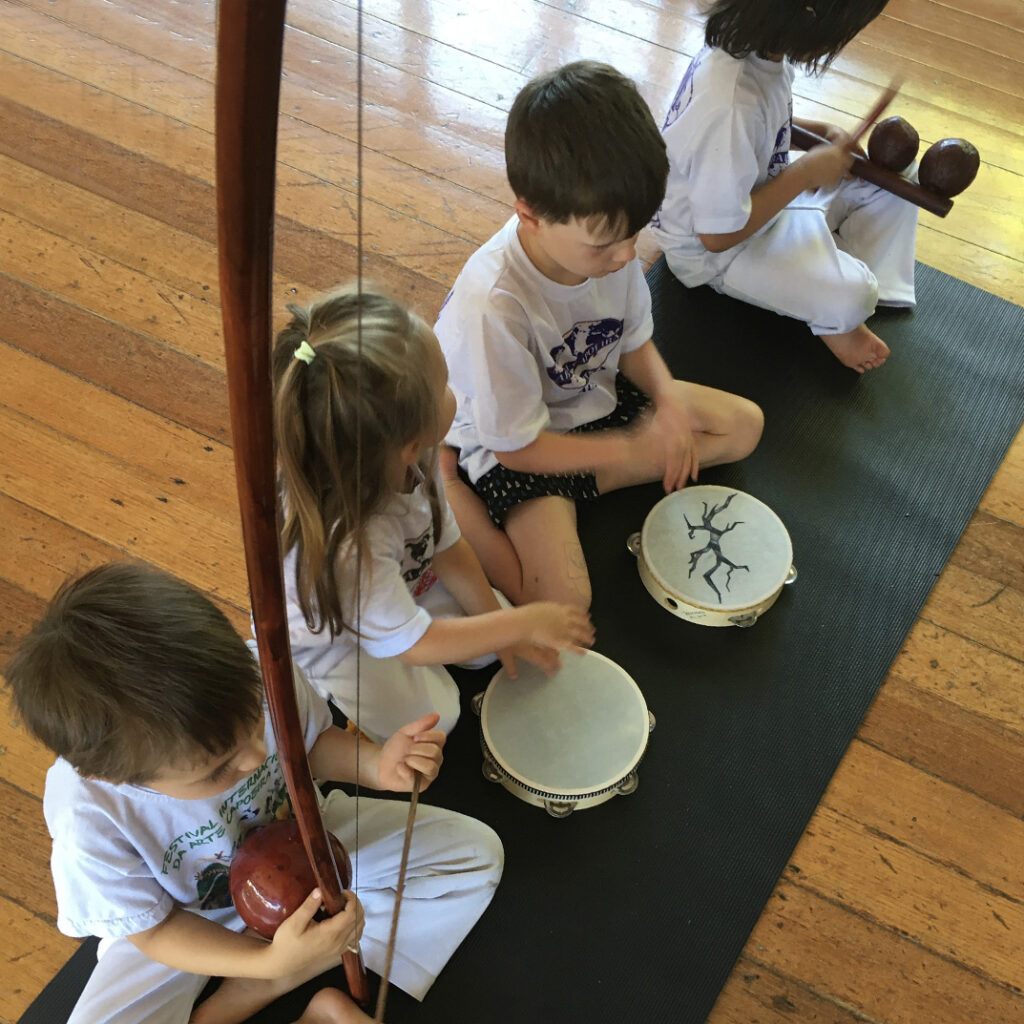 What can I expect from a Capoeira kids' class? 
Capoeira is a unique martial art that combines many elements. In each class, we work on Capoeira movements and music, singing while exploring the joys of being active and interactive. The kids also get familiar with Brazilian Portuguese, an essential element of Capoeira to be preserved, through simple songs, greetings, or the names of movements. In our kid's classes, children learn to improve coordination, rhythmic sense, and concentration.  
The younger kids (4-6 years old) classes are more playful, and we use games to build up these skills and interact with each other. For the older kids (7+ years old), the technique becomes more important to prepare the students to play with more advanced students and training sessions.
How do I enrol my child?
If you would like to enrol your child after your trial class, let the teacher know, and we will send you a link to sign up your child for the term. The payment is made by Direct Debit through our management system (Martialytics). We have a 30 days cancellation policy.  
How can I get a uniform?
You can get a uniform from your teacher, and we can charge you through our management system (Martialytics). The uniform consists of a t-shirt, Abada pants, and a "Corda Crua" (natural belt). We will show you how to put on the belt. 
How do the students change belts? 
All kids change their belts at our yearly grading ceremony, which we organise together with all members of our school in Melbourne. The kids (up to eight years old) follow the ABADA-Capoeira's Kids Belt System based on their age. From nine years old, the kids follow the Teens/Adults Belt System based on their technical development. 
Are there kids' classes during the school holidays? 
Our Capoeira kids' classes follow the school terms of Victoria, and the kids' classes usually stop during the school holidays. The older kids can check with their teacher if they can participate in the adult classes during the holidays (no extra cost-related).  
How long are the kids' classes?
The kids' classes are between 40min and 60min long, depending on the age group and location.
Are there competitions in Capoeira? 
Yes, we have competitions in our Capoeira school. However, Australia alone doesn't have the number of students necessary yet to hold a competition following the requirements of ABADA-Capoeira.